Every component of our Sade listening party worked out perfectly. From the food to the Sade themed cocktail samples courtesy of Ciroc (thanks Karim!), the art (big up Charles Jean-Pierre), the eager crowd of music lovers and party people and the sponsorship support. I speak on behalf of LSP in thanking April at Sony for allowing Refuge to host the event and hooking up our guests with great prizes. Soldier of Love comes out February 9. I've got mine on pre-order.

[photos: Dana Kristina-Joi Morgan]
Check Gerald Watson's spot for more photos.
Before we listened to the new album, I played an all Sade set. Didn't rock any Sweetback though! Outside of that bit of fail, the evening was spiced with great remixes that I pulled from my stash. How is it that three of the best Sade remixes are for "By Your Side?" Tell me in the comments which one is the hottest.
Sade – "By Your Side" (the Neptunes Remix)
This is a great snapshot of the Neptunes sound that dominated the scene ten years ago and the ability for them to adapt their club banging style to a ballad. This one isn't so rare and was actually released on a single so you should be able to dig it up.
Sade – "By Your Side" (Cottonbelly Remix)
For those just tuning in, Cottonbelly is Stuart Matthewman, founding member of Sade and Sweetback. This smoldering afrobeat ember can be found on a rare compilation of his and also on the Red Hot + Riot album, which everyone should own anyway. Neptunes, I'ma let you finish, but Cottonbelly had the best "By Your Side" remix of all times… OF ALL TIMES! *shrug*
Sade – "By Your Side" (Naked Music Mix)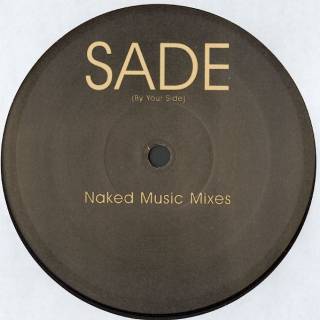 Let me stop playing. Cottonbelly has seniority due to his role in the band but I can't give him the title that quickly. So much of the Sade discography captures the essence of carnal pleasure but this remix is one of the sexiest Sade songs in existence. I waxed nostalgic about Naked Music after week 12, but for anyone not hip, this label built their whole catalog on music designed for getting someone pregnant.
One thing that can never be replaced about vinyl is the thrill of the hunt and the emotional relationship you develop with the treasures you find. When this white label dropped, I felt like I was walking around with something rare, magic and powerful whenever I had this in my dj bag. Records like these make you feel like you should be porting them around in a Haliburton cuffed to your wrist.
Sade – "Stronger Than Pride" (Karizma K2 Mix)
Here's the portion of the talent contest where a feature performs while the judges deliberate, although I want your opinions about this one too. It was feeling so good to me that I had to play it twice in the same night. I know you all weren't mad either. Opening with what sounds like a distorted tuba and accordion (?!?) the track builds hypnotically with vocal loops, percussion and synths for four minutes before you even get to the first verse. By then it's a spiritual experience. You must rock the whole 10 minutes. EPIC.
Karizma is one of my top 5 favorite DJs. His sets are technical, soulful, funky and downright BRUTAL. It's like musical masochism. Dude is a fucking monster on the decks. I've seen him make a roomful of the world's best DJs draw inward and reflect on the meaning of their craft. His production work brings the same heat. Drawing from his background in Baltimore club, he blends sexy jazziness with jack-your-body beats.
He still releases his remixes on wax, which makes them that much more valuable. That was the only way you could get them until now. If you're willing to suck up the import tax, you can own ALL OF THE K2 edits on CD. the $20 is worth it just for the Sade mix alone, not to mention the Faith Evans, Maxwell, Al B. Sure, Anita Baker…. just cop that joint and buy me a drink when you see me next as a show of gratitude.